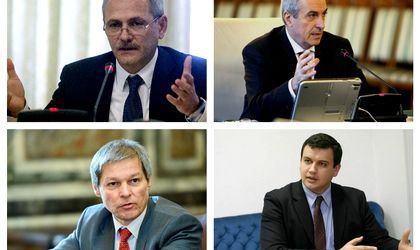 Social Democratic Party (PSD) chairman Liviu Dragnea is to meet with Alliance of Liberals and Democrats (ALDE) co-chair Calin Popescu-Tariceanu this week to discuss the opportunity to launch a motion of no confidence next month. PSD and ALDE are the two main political forces in Parliament, however they would need support from the People's Movement Party (PMP) in passing a no-confidence motion in autumn.
"Next week, tomorrow or the day after tomorrow, I will talk to Mr. Tariceanu, Liviu Dragnea told Agerpres on Sunday. "A lot of bad things this Government made have piled up, and we are considering very seriously the option of a vote of no confidence, beginning September, that would turn this Government into an interim one, with limited prerogatives," Liviu Dragnea added from Vaslui, where he was participating in the meeting of the National Executive Committee of the PSD.
On Wednesday, the PSD leader criticized the Ciolos government for having adopted a decision that, in his view, is depriving veterans and troops of the rights provided to them by the Tax Code. According to Dragnea, the Ciolos government showed "contempt" towards Romanians. That is why, Dragnea stated, PSD took into account the opportunity to file a motion of no confidence after "prime minister Dacian Ciolos preferred to cover up the public sector workers with the Ministry of Finance who made mistakes and troubled important social categories," such as veterans and disabled people, by dismissing the PSD's call to amend government decisions.
As far as the PMP is concerned, Eugen Tomac stated that his party does not support the PSD initiative. "We are not entering discussions on this topic, because it is a frivolous topic. PSD could show political will, because it has this instrument, but what it is doing right now is but an unsuccessful attempt from our point of view and we are rejecting it. Under no circumstances can we be associated with the PSD in this initiative," Tomac said.
Democratic Alliance of Hungarians in Romania (UDMR) chairman, Kelemen Hunor, endorses the initiative of the PSD, B1 reports. "I believe the Government would deserve a motion of no confidence. During this time, I saw gestures, initiatives, decisions that would not have parliamentary support. From September, when a motion of confidence can be filed, until December, should the Government have limited attributions, nothing happens. It is not releasing emergency ordinances and all sorts of decisions that are questionable," Hunor said.
Georgeta Gheorghe