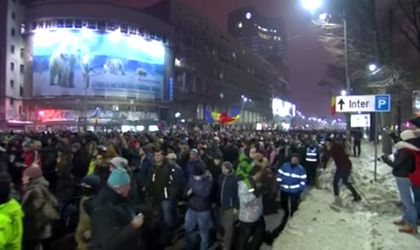 Protesters are planning to rally again on Sunday in Bucharest and major Romanian cities against government plans to pass o enforce a pardon bill and to change the Penal code.
The protest was announced via the Facebook page 'Coruptia ucide' (Corruption kills), which last Sunday brought to the streets of the Romanian capital between 25,000 and 30,000 people. The protest, the largest after the November 2015 mass rallies that brought down the Ponta Government, was also attended by Romanian President Klaus Iohannis.
"28,000 people in Bucharest said very clearly they do not want amnesty and pardon. Also yesterday we noticed that certain televisions are shamelessly misinforming, and the National Audiovisual Council (CNA) is not doing its job. It is time we visit them. Then we will pass by the Ministry of Justice, and on the way, we will visit our Ombudsman. We have an Ombudsman who is not working for us. At the end, we will go to the Government. We do not want the Government to resign, we want it to respect the electoral pledges. Not to propose absurd laws that are in for benefit of certain people," the message posted on the Facebook page of the event said.