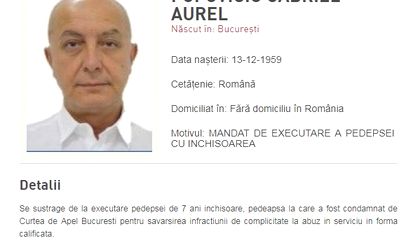 Gabriel "Puiu" Popoviciu, the real estate mogul sentenced to seven years in jail by Romanian judges, has emerged in London, UK.
According to media reports, he went to a police station in London where he was detained on Monday. However, he was able to get out after paying GBP 200,000 for bail. The businessman, who has an American citizenship, will be summoned to the police station three times a week, according to British legislation.
Meanwhile, Romanian authorities are planning to initiate extradition procedures for Popoviciu, who has been placed on the most wanted list of the police since the start of August.
Investigators said that Baneasa Investments, the firm owned by Popoviciu, entered in a deal with the University of Agricultural Science and Veterinary Medicine (USAMV) through which the 226 hectares of land was illegally transferred in the share capital of the private firm. The land transfer was made at a price of USD 1/hectare, while the market price in that area stood at EUR 150 per sqm.
In the past decade, the real estate market in the northern part of Bucharest has soared. The land, which was part of the controversial deal, now hosts several retailers such as IKEA and commercial shopping center Baneasa.
Actually, Popoviciu brought the IKEA franchise in Romania back in 2007 and later sold the store to IKEA itself, according to media reports.
Popoviciu's lawyer is ex-FBI director Louis J. Freeh. He claims that the sentence and conviction of his client "are not supported by either the facts or the law."