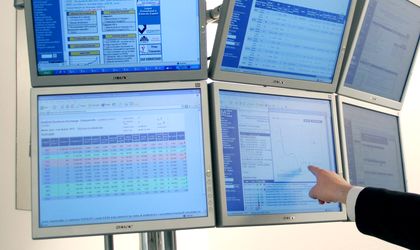 Property Fund (FP) reported a net loss close to EUR 350,000 in the first quarter of this year, due to a lack of dividend income as companies in FP's portfolio are starting to declare them only in the second quarter, adding to a lower interest income.
The fund's net profit in Q1 2011 stood at RON 14.7 million (around EUR 3.6 million). Net profit should reach RON 442.5 million (EUR 101 million) in 2012 according to FP's budget.
FP revenue fell by 59.7 percent y/y to RON 13.4 million (EUR 3 million) in Q1, while interest income lost 59.5 percent to RON 7 million (EUR 1.6 million). Expenses decreased by 19.4 percent to RON 14.9 million (EUR 3.4 million) in Q1.
Franklin Templeton, the sole manager of FP, was paid a commission of RON 8.75 million (around EUR 2 million) in Q1. The fund paid a fee of RON 3.9 million (around EUR 900,000) to the National Securities Commission, while RON 451,750 (over EUR 100,000) was the depositary fee. The fund manager cashed in around EUR 6.5 million last year.
US Hedge Fund Elliot Associates, the largest shareholder in FP with a 13.9 percent stake, successfully pushed this April a provision that would allow Franklin Templeton to receive 1.5 percent of distributions made through to 2013, and 1 percent there after, for selling assets.
FP has 73 companies in its portfolio, but only 27 are listed on the stock exchange, so shares are currently trading at a 50 percent discount. Franklin Templeton appointed Citigroup this March to handle potential asset sales over EUR 500 million in unlisted companies such as E.On or Enel. These holdings represent 15 percent of the net asset value (NAV), which stood at RON 3.53 billion in April.
Around 86 percent of the NAV is weighted in the power and oil & gas sectors. The largest company in FP's portfolio was Hidroelectrica, which took 36.5 percent of the total value of unlisted companies, while OMV Petrom was the largest listed company, accounting for 74.3 percent of the total value of listed companies.
Shareholders authorized Franklin Templeton to repurchase a maximum of 1.1 billion shares within the next 18 month in the price range of RON 0.2 per share to RON 1.5 per share. The first buy-back program saw the fund repurchase and cancel 240.3 million shares last year. This move should also increase the value of the fund.
The largest shareholders in FP were Elliott Associates (13.9 percent stake) and City of London (7.21 percent stake). Georgia Palade van Dusen, the largest individual investors, went below the 5 percent threshold, after selling 100,000 shares, holding a stake of 4.9 percent this May.
Foreign institutional shareholders had 46.28 percent of share capital, while Romanian private individuals held 30.57 percent. Romanian institutional shareholders owned 10.5 percent, while foreign private individuals had 8.25 percent. The fund had a total of 9,833 shareholders.
FP had a market capitalization of EUR 1.75 billion in April and the average daily turnover stood at EUR 1.47 million. The fund will pay dividends of RON 531 million (EUR 121) from last year's profit.
FP shares rose by 0.64 percent to RON 0.4890 on late Wednesday trading.
Ovidiu Posirca