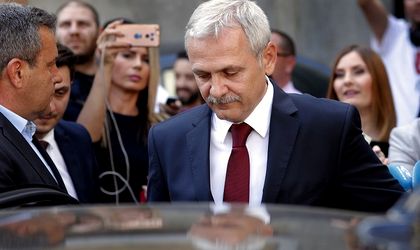 A letter calling for the resignation of PSD head Liviu Dragnea surfaced today, written by three prominent PSD leaders, which also includes a list of 18 other demands that are aimed to "avoid international isolation and the loss of trust in the Social Democratic Party".
The letter was written by deputy prime minister Paul Stanescu, Bucharest mayor Gabriela Firea and PSD vice president Adrian Tutuianu and signed by over 20 other PSD Executive Committee members, according to Digi24.
This comes on the same day as the announcement by the High Court of Cassation and Justice regarding the first court appearance in Liviu Dragnea's appeal in the criminal case in which he received a first-instance conviction of 3 and a half years, which will take place on October 8.
The authors are claiming the party is facing a crisis situation and that despite the "positive economic results" of the almost 2 years since PSD has been in power, paradoxically, the party is losing ground in polls with a voting preference between 25 and 30 percent, much lower than the score obtained by the party in the 2016 parliamentary elections (47 percent).
Furthermore, the letter states that Liviu Dragnea himself's approval rating is around 7-12 percent and that he is the most highly contested Romanian political leader of recent years.
The most important demands in the letter are the resignation of Liviu Dragnea as the head of the party as well as from his position of President of the Deputies Chamber and Dragnea being replaced by PM Viorica Dancila as party leader until an Extraordinary Congress is organized in 2019.
"It is our duty as responsible political figures to analyse this situation and decide upon the necessary measures to stop this trend, as well as to strengthen the party's structures in order to remain the leading political force in the country that is capable to win the 2019 europarliamentary and presidential elections, as well as the 2020 local and parliamentary rounds," the letter states.
The letter lists 9 causes of the crisis it is facing, including internal conflicts, PSD's "permanent war" with various factions of society and institutions such as the presidency, the justice system or the intelligence agencies, the party's poor communication strategy, the legal status of Liviu Dragnea, the claims by the opposition that the justice system reforms proposed by the PSD would directly benefit him, the promotion of individuals with lacking professional performance in institutions and ministries, the non-democratic actions taken by the party leadership and the lack of trust in the PSD from external partners.
Other demands by the PSD members include:
Maintaining the PSD-ALDE coalition and negotiating with other parliamentary groups to ensure support
Supporting critical infrastructure projects like heating and water supply and a better collaboration between the government and local public administrations
Boosting support for big transport infrastructure projects
Unconditionally supporting the new Pensions Law as proposed by the current government
A plan to make the social assistance system more efficient through targeted measures that truly help those in need
Appropriately preparing for the Presidency of the Council of Europe
Passing reforms to the justice laws, the criminal code and the criminal procedure code, national security laws, the administrative code, the off-shore law, and more.
Adopting a lobby law in line with transparency and good practices principles
Adjusting legislation for the exploitation of natural resources in order to maximize benefits for Romanian citizens and provide an attractive framework for investors
Adopting legislation for amnesty and pardon after consulting with various institutions
Firmly condemning and preventing the involvement of secret services or illegitimate interest groups in the justice system
Supporting the referendum to revise the constitution for a new definition of the family
Supporting the government's budget revision process
Supporting local public administrations by allocating the necessary financial resources
Establishing a coherent electoral strategy to prepare the party for the future election rounds
Improving relations with international partners and regaining trust in the party