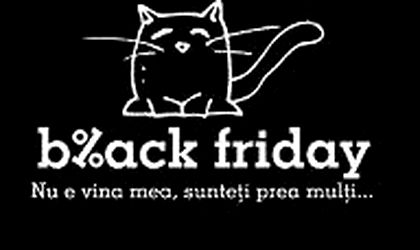 Romanian retailers have imported the 'black Friday' symbol from across the Ocean and they are selling their products at a discount.
 eMAG and Flanco were the first stores to bring this concept to Romania, but then other stores such as Koyos.ro, PC Garage, or evoMag.ro also followed.  Throughout the day, the online stores saw an increased number of visitors and even experienced technical issues due to the fact that there were too many visitors.
 The tradition is originated in the United States, where it has become a national phenomenon both in the traditional retail stores and online.
 "Through this action alone, eMAG and Flanco will raise the entire electro-IT market level by EUR 10 million. Taking into consideration its proportions, the event will seriously get the consumers' attention towards the Romanian electro-IT market and will manage to generate behavior changes amongst them. Many of the consumers will be, therefore, determined to renew their TVs, their PCs or their white goods, although this action might not have been planned", said Iulian Stanciu, president of the group eMAG, Flanco, Asesoft Distribution.
 Black Friday is a major event in the developed countries. The products and brands on promotion will become the season's stars; also with this occasion, the producers are launching on the market the future season's best-sellers.
"We have prepared a supply of more than 30,000 products and we expect this event to generate a peak in what concerns the highest number of visitors and orders in just one day", said Radu Apostolescu, eMAG vice-president and development Manager.
Otilia Haraga