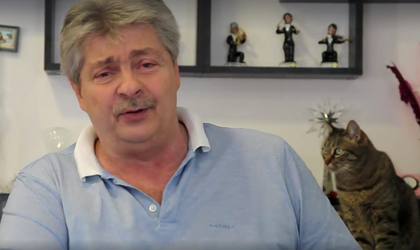 After spending a brief period in jail, the controversial businessman Sorin Ovidiu Vintu launched his personal blog at the end of 2014 and started posting short video messages on his own Facebook page, practically building his own community of fans from scratch.
At this moment, Vintu's Facebook page has close to 125,000 followers and his blog posts constantly got over 1 million views.
From the former head of a media empire that spanned TV, online and print media called Realitatea-Catavencu, Vintu ended being a vlogger that filmed himself while smoking in his own house. Sometimes, he made videos outside the house, while sitting in the garden or while he was driving a boat on a lake.
However, in the videos posted on Facebook and through the articles posted online, Vintu looked like a preacher who was telling his followers what to do.
"We could ask our masters at least 3-4 motorways and a kilo of vodka for our freedom," wrote the controversial businessman in an article about politics. In a video, he was praising president Klaus Iohannis for stopping the "mafia gang" that comprised former media mogul Sebastian Ghita, the head of operations of domestic intelligence service SRI, Florian Coldea, and the former PM Victor Ponta.
Most of Vintu's comments online was related to the political games in the country and in a video he concluded that all the political parties are the same and "they have the same number and quality of crooks". He also liked to talk a lot about the intelligence services and their involvement in media and politics.
Although he was the mastermind of the financial pyramid scheme FNI, for which he got could to jail, Vintu had started a new business venture recently called "InvestMarket". He wrote on this blog that this was a "simple way to connect more than 5,600 investors and a network of investors, offering a centralized network based on a verified platform, with a transparent investment portfolio."
"It is preferable to have 1 percent of something that is palpable, instead of 100 percent of nothing," wrote Vintu on the blog.
He was also giving investment advices to his followers. For instance, he said that if a person had up to EUR 5,000 for investments, he or she should buy virtual coins.
Starting 2012, Vintu had spent some time behind bars. In May 2013, he got out after having served a one year jail sentence for blackmailing the controversial businessman and politician Sebastian Ghita. He went back to jail in a separa
te case, in which he was accused of having favored Nicolae Popa, the former head of Gelsor group, which also included National Investment Fund (FNI).
Popa is currently in jail for the collapse of the fund, which saw tens of thousands of Romanians that invested in FNI lose all their money.
On Friday, Vintu received a sentence of 6 years and two months in the Petromservice file. He also got 6 years and four months of jail in the FNI case, but the decision is not final.
The businessman was also jailed during the communist rule of Nicolae Ceausescu for dilapidation. He bragged on his blog about the time he spent in jail before 1989.
Ovidiu Posirca