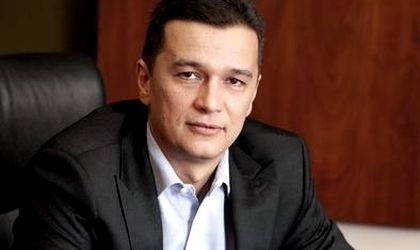 Sorin Grindeanu, 43, was appointed as Romania's new PM by President Klaus Iohannis on December 28. The head of the Timis County Council, he is a former minister in the Ponta Government and, in September 2016 made headlines with his willingness to build a fence at Romania's western border to stop refugees.
Born on 5 December 1973 in Caransebes, Sorin Grindeanu graduated from the Faculty of Mathematics& Computer Science Section of the West University of Timisoara and later attended several training courses. According to info posted on his website, www.soringrindeanu.ro, he specialized in Adult Education with the Institut fur Erwachsenenbildung of Frankfurt in Germany, and attended several courses at Universidade de Aveiro, Portugal, and Metropolitan Leeds University, Great Britain.
Between 1998 and 2001 he worked as a graduate and later university assistant at the Faculty of Sociology and Psychology with the Timisoara West University, and later took jobs in the private sector.
Grindeanu entered politics in November 1996 as a Party of Social Democracy of Romania (PDSR) member and two years later became vice-chairman of the Youth Organisation of PDSR Timis. On 30 August 2013, Sorin Grindeanu was elected deputy secretary general of the Social Democratic Party (PSD).
Grindeanu served as deputy mayor of Timisoara and at the parliamentary elections of 9 December 2012, he was elected deputy of Timis. In December 2014 he was appointed minister for the Information Society in the Victor Ponta government, and held that position until 17 November 2015. He became Timis County Council president, representing PSD in June 2016.
Back in September, the PM designate made headlines when he said he does not exclude the possibility of erecting a wall at the border between Romania and Serbia in order to prevent migrants from entering the country.
"The pressure will be on us, in Timis and in Caras and I wouldn't want to end up in situations together with mayors in those localities to make decisions that are not to the liking of those in Bucharest," Grindeanu told pressalert.ro. Asked whether he is willing to build a wall, just like Hungarian authorities, he said : "there are other institutions that can prevent such a wall[…] Mayors said they would make walls. I regard this as a last-resort solution, but I do not exclude it. (…) I told you I had talks with mayors along the border. Some of them are very worried, if not all of them, they has experiences of this type in the past weeks and then it is normal to have such a back up plan," Grindeanu said.
Georgeta Gheorghe