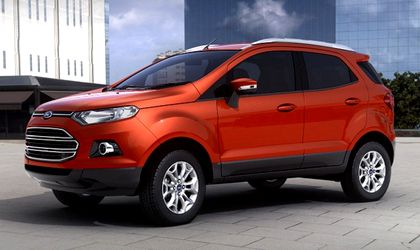 The production of the new Ford model, Ford EcoSport, will create 1,700 new jobs in Craiova. The Ford B-MAX model will be taken out of production in the first half of September. 
According to 0-100.ro, since the B-MAX model was introduced, in June 2012, over 260,000 units were sold. The Ford Craiova factory is the only one that produces this model. However, an average production of over 50,000 units is too little to maintain it in production.
According to Ford, as soon as the Ford B-MAX will be taken out of production, the Craiova factory will start producing the Ford EcoSport model. This is also a Class B model, just like B-MAX, but it is a more popular mini SUV.
The investment program for the production of Ford EcoSport in Craiova is valued at EUR 200 million. In its first full year of production, the Ford Craiova factory will produce up to 10,000 units per year. In order to sustain this volume, the factory will hire a total of 1,700 staff.
The recruitment program already started in April 2017, when 976 new positions were advertised. Other 525 new work places were created in the cars production and other 200 new positions were created in the engines factory.
Before the start of the recruitment process, the Craiova Factory hired 2,715 staff, and by the end it will count over 4,000 employees.
The factory will also produce a second model, but Ford is still keeping the name of the model under wraps.