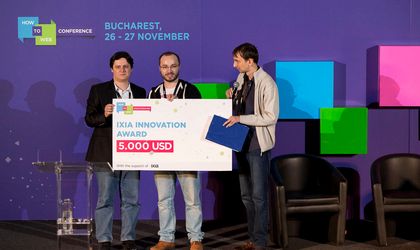 How to Web Startup Spotlight offers cash prizes with a total value of over USD 30,000 to the four winners that will be selected in the program. Out of the 50 startups that will be pitching on the main stage of the conference, four will be awarded for the best startup by IXIA Romania, the best cybersecurity startup by Bitdefender, the best startup story by Cyberghost and IXIA innovation award.
Startup Spotlight will also bring opportunities to the attending startups: 1 on 1 meetings with potential business partners, media exposure, pitch practice sessions, as well as hands-on advice on raising investment.
Applications for How to Web Startup Spotlight are open on the conference website by September 25th.
The startups that will be selected into the program will compete for USD 30,000 cash prizes offered by the main partners: USD 5,600 for the best cybersecurity startup, USD 5,600 for the best startup story, USD 5,000 -IXIA Innovation Award and the big prize of USD 15,000 for the best startup.
How to Web Startup Spotlight is a deal-making program for emerging European tech startups, that will start on October 31 at TechHub Bucharest and will continue on November 1 and 2 during How to Web Conference, at the National Theatre in Bucharest. The startups that will be accepted into the program will connect with over 80 mentors from all over Europe.
The industries for which the startups can apply are: eHealth sector, hardware industry, Big Data and Analytics, B2B platforms, Fintech (financial services, payments, insurance, financing, infrastructure, advisory), CyberSecurity (application security, internet security, enterprise security, defense, disaster recovery), Gaming & Entertainment (social, games, content discovery, augmented reality, virtual reality), Agrotech, Education.
Georgiana Bendre