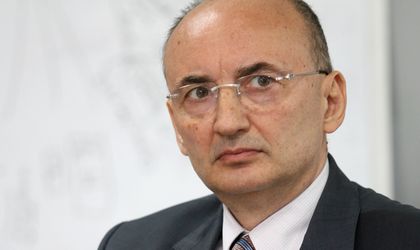 Representatives of Coalitia pentru Dezvoltarea Romaniei (The Coalition for Romania's Development), the main private association representing Romanian and foreign investors, have warned that the planned overhaul of the taxation system for companies could destroy jobs and shatter the country's image as a good investment destination.
Their reaction came after the new center-left government led by Mihai Tudose outlined some of its initiatives in the fiscal area, such as the replacement of the profit tax with a new tax on the turnover of firms and the enforcement of a solidarity tax.
"This reflects a true despair due to the situation of the collection (of taxes – e.n.) to the budget and the budget deficit," said Florin Pogonaru the president of the Coalition who is also head of the Association of Businesspersons in Romania (AOAR).
"Such measures generate a false sensation of a war between the public and private sector," said Pogonaru (in photo).
Speaking about the planned taxation on the turnover of firms, Pogonaru said that firms with Romanian capital are set to take a big hit, as they are already in a vulnerable position. He cited the results of a study according to which 43 percent of the firms with Romanian capital have a negative equity.
In addition, the enforcement of the turnover tax might breach the legislation of the European Union as there is a Directive in place that blocks such a move.
"At this moment, no EU state has in place a tax on turnover instead of the one on profit," said Daniel Anghel, vice president of the Foreign Investors Council (FIC). He added that Romania might run the risk of blocking double tax treaties if the profit tax is dropped.
"A change of the fiscal paradigm every six months doesn't do any good," said Anghel. The FIC representative suggested that the government should look to combat the tax evasion better instead of enforcing new taxes.
Anghel explained that close to 40 percent of the VAT amounts in Romania are not collected, placing the country last in the EU.
The FIC vice president also referred to the planned tax of solidarity, claiming that it "penalizes the middle class."
Representatives of the Coalition said they are open to discuss with the government about the planned changes and have called on authorities to come up with impact studies before enforcing such measures/
According to the governing program, the profit tax should be scrapped starting next year, when the solidarity tax should also be enforced. Also, wage hikes of 25 percent for all state workers should be rolled out starting January 2018, as the new public sector wage bill has been signed in late June.
President Klaus Iohannis has already warned the government to keep the budget deficit below 3 percent of GDP.