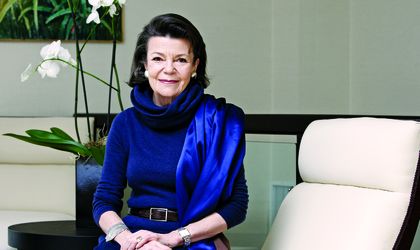 In Memoriam
Princess Marina Sturdza passed away peacefully on Sunday, October 22, in New York, after a long illness, that she fought with her characteristic dignity, until the last moment of her life.
A model of nobility, generosity and dedication, Princess Marina Sturdza will remain in our hearts as a living spirit that will continue to inspire us all.
By Anca Ioniță
I met Princess Marina Sturdza in 1997, when she came to Bucharest to organize "The International Herald Tribune Investment Summit", the first major event of its kind in Romania, bringing together international investors and business leaders interested in the region with the Romanian Prime Minister and other high-ranking local government officials, as well as foreign ministers from many neighbouring countries and all the international financial institutions such as EBRD, IFC and WB.
I was at that time the editor-in-chief of In Review, a monthly English-language magazine covering the business, economic and socio-political scene of a country that was struggling with a difficult transition from a centrally planned economy to a free market.
Her name evoked a long line of princes that had ruled Romanian principalities in the XVIII and XIX centuries (all very briefly mentioned in the censored history manuals), and I was very curious to meet in person a direct descendant of some of the most prestigious Romanian aristocratic families.
I was surprised of how well she spoke Romanian language, despite the fact that she had left her native country when she was only three years old. She took pride in speaking her mother tongue, and that made me understand from the very beginning that I had in front of me a very special person, with a clear of set values, a person who had the power to inspire others and who represented the model we were all eagerly looking for!
In less than five months since her arrival to Bucharest Marina managed to set up a team of young and talented Romanians as the local office of the IHT's Conference Department, met government officials, local top management as well as potential sponsors and drafted the agenda and the list of prestigious international and local speakers. As a media partner of the Summit I worked closely with her and her local office over this extremely intense period.
Her ability to connect to different areas of an emergent society that was, at that time, divided, incoherent and hesitant, was impressive. Marina had the talent to understand very quickly a situation and find a win-win solution for all the parties involved.
A team manager myself, I was impressed by her capacity to create, train and manage a cohesive team in such a short time, bringing it very fast to the international standards required for organizing an international event of this scale. Almost all of them are still working with her, in different projects that Marina undertakes currently in Romania and Moldova, due to her ability to inspire and motivate people.
But what was really unique about her was the unlikely combination of an extraordinary creative person, for whom expressing her creativity is a basic need, with a hard working individual, whose sense of duty and dedication to the project is absolute, who can elaborate complex projects and bring them to fruition.
Over the years, she was one of the most active supporters of Business Review and its efforts to professionally reflect the economic and business environment of a country in transition. She was a great friend of our publication, who has been present throughout BR's history, both as a journalist and a loyal reader.
She loved her native country and took pride in its history. Marina Sturdza's relentless work in the areas of child protection and palliative care – two segments in Romania's struggling post-communist society that badly needed help in the years 2000 – is maybe the best proof of her aristocratic rooted sense of duty. She considered it a privilege, and not a burden. The emotional cost of reaching out to abandoned children in the institutions she visited in Romania and Republic of Moldova, over the past 15 years, as part of her charity work, she paid it gladly. Even in times of personal distress she continued to perform her duties as patron of several local and international charities that are doing work both in Romania and the Republic of Moldova with grace and dedication.
Princess Marina Sturdza was a strong believer in meritocracy, and in the future the new generations will build for Romania. In a public address she said: "Societies define themselves through deeds of valor, by examples of good behavior and generosity. They take pride in their ancestry and achievements, and they pass these values from generation to generation, from grandparents to children," she wrote several years ago. "But when you delete history, when you delete our heroes and our heritage, when you delete our intelligentsia and our meritocracy, essential qualities are lost. But this society has vigor! Out of the ashes of Communism which did us such damage, a new generation is emerging, one that is renewing the centuries-old traditions — a new sensibility, an era in which people have begun to trust, in which institutions begin to have confidence." She believed in the formative function of role models, herself being one of them.
In Ancient Greece, the word aristocratic meant 'the one who has value', thus defining a person who was perceived by compatriots as valuable through his/her deeds. Independently from her inherited aristocratic titles, Princess Marina Sturdza's life work earned her a place in the pantheon of world's aristocracy.