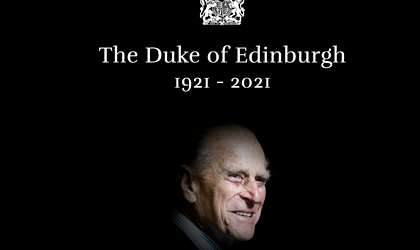 The Royal Family just announced that Prince Philip, husband of Queen Elizabeth II, passed away this morning at Windsor Castle. The Duke of Edinburgh was born on 10 June 1921 on the Island of Corfu in Greece and was married to the then-Princess Elizabeth in 1947.
"It is with deep sorrow that Her Majesty The Queen has announced the death of her beloved husband, His Royal Highness The Prince Philip, Duke of Edinburgh. His Royal Highness passed away peacefully this morning at Windsor Castle. The Royal Family join with people around the world in mourning his loss. Further announcements will be made in due course. Visit www.royal.uk to read the announcement in full," states the official note.
Philip, duke of Edinburgh, in full Prince Philip, Duke of Edinburgh, Earl of Merioneth and Baron Greenwich, also called Philip Mountbatten, original name Philip, prince of Greece and Denmark, was born June 10, 1921, Corfu, Greece,  and spent 65 years supporting the queen, retiring from his public role in 2017 .
Philip's father was Prince Andrew of Greece and Denmark (1882–1944), a younger son of King George I of the Hellenes (originally Prince William of Denmark). His mother was Princess Alice (1885–1969), who was the eldest daughter of Louis Alexander Mountbatten, 1st marquess of Milford Haven, and Princess Victoria of Hesse and the Rhine, granddaughter of Queen Victoria. Reared chiefly in Great Britain, Philip was educated at Gordonstoun School, near Elgin, Moray, Scotland, and at the Royal Naval College, Dartmouth, Devon, England. From January 1940 to the end of World War II, he served with the Royal Navy in combat in the Mediterranean and the Pacific.
Philip's relationship with the young Princess Elizabeth began as a story of young love, as NBC notes in their obituary written today for Prince Philip. "We behave as though we had belonged to each other for years," Elizabeth wrote in a letter to her parents shortly after they married.
Over the years, the queen acknowledged Philip's deep influence on her, calling him her "strength and stay" in a speech on their 50th wedding anniversary in 1997.
Prince Philip was recently admitted to King Edward VII's hospital in central London on 16 February after feeling unwell and retuned on March 16 to Windsor Castle. Buckingham Palace said the duke was discharged "following treatment for an infection and a successful procedure for a pre-existing condition".
Photos courtesy of Royal Family official website.