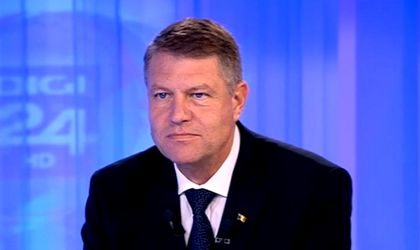 President Klaus Iohannis announced on Thursday he will notice the Constitutional Court of Romania (CCR)" to Law 303/2004 on the status of magistrates and urged the Parliament to reintroduce the laws of justice into the parliamentary circuit as soon as the autumn parliamentary session resumes.
"Regarding the second law, the now amended Act 303/2004 on the status of prosecutors and judges, recently reviewed by the Parliament, I will refer to the Constitutional Court with the firm request to take into account the views of the Venice Commission", announced the head of state in a press statement at the Cotroceni Palace.
He urged Parliament, as soon as the autumn session resumes, to reintroduce the Laws of Justice into the legislative circuit, noting that at this point in time, according to the Constitution, it will have to promulgate Law 304/2004.
"As regards the steps that I have made as President, I recall that I have been asking for a re-examination of these laws by Parliament, I have sent out complaints to CCR and I have notified the Venice Commission. After completing all the possible appeals procedures and we have unfortunately exhausted all the constitutional ways that I have at my disposal, I am bound by the Constitution to promulgate the law. However, this does not mean that the course of this law has been finalized, it is over. In virtue of the fundamental attributions given to me by the Constitution, I expressly ask the Romanian Parliament that, as soon as the parliamentary session resumes, the in autumn, reintroduce these laws into the parliamentary circuit and correct them," said Johannis.
The President stressed that this step is "absolutely necessary" and "impossible to avoid".
"It is impossible to go further with a law that has been challenged in many ways and received a negative opinion, including from the Venice Commission. This law still raises many problems on the ground and contains unclear, uncoherent provisions, these deficiencies can affect the constitutional requirements and European and international standards in terms of independence and the proper functioning of the justice system," said Iohannis.