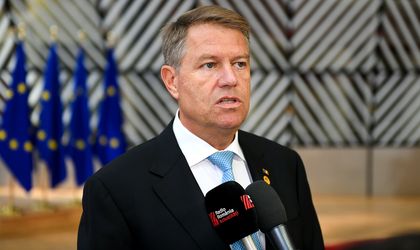 Romanian president Klaus Iohannis will attend a meeting of the European Council in Brussels on Thursday and Friday. The event will include an extended format Euro Summit, according to the Presidency.
The European Council's agenda this week includes talks on the post-2020 EU budget, on the internal market, managing immigration, fighting climate change, racism and xenophobia.
"The President will call for the rapid adoption of the new EU budget, noting that, as the future holder of the Presidency of the Council of the European Union, Romania will act in order to obtain significant progress in negotiations," the Presidency's statement reads.
Iohannis will also support the EU's efforts in the external dimension of migration and an active involvement in the dialogue with external partners, including migrants' origin and transition countries.
Furthermore, Iohannis will express support for the continued efforts to strengthen the EU's Internal Market.
At the Euro Summit, the President will highlight the fact that decisions related to the eurozone's consolidation are very important for the EU's future and will continue to support this type of extended debates, which include countries that are not yet a part of the eurozone.