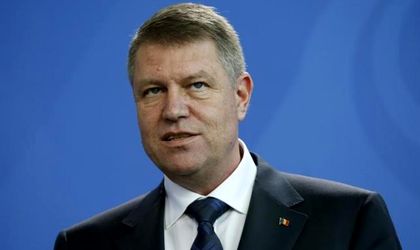 President Klaus Iohannis said yesterday that the Romanian state has still "big problems" regarding the fiscal evasion, underling that it will better for everybody if the state and the business environment "interact honestly one with another."
"We must admit that we still have big problems. Regarding this, the state and the business environment need to understand the risks of  perpetuating this vicious circle. I know very well that in the current context the predictability is one of the most valuable economic assets. Romania needs being predictable from economic point of view, in the fiscal-budgetary plan and the macroeconomic stability," said Iohannis at the "National Top of the Firms" Gala.
"It's not sufficient to say that Romania is competitive from the fiscal point of view, through the unique quota of 16 percent. The payment of taxes has to also be made easy without the regulations and the excessive controls of the state. We need clarity and discipline in the state-taxpayers relation and we need to work together to this kind of partnership, " added Iohannis.
He said that according to statistical data, on the first semester of 2016 the turnover at the level of the entire economy grew by 6 percent compared with the similar period of the last year, while the companies' profits grew by 8.6 percent, which in his opinion, it represents "a clear sign of business viability."
According to him, the average rate of profitability at national economy level grew progressively, from 4.5 percent in 2014 to 5.3 percent in 2015 and to 6 percent on the first semester in 2016, while the number of firms which registered a profit grew by almost 10 percent.
Georgiana Bendre