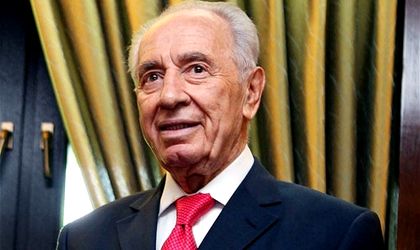 Romanian President Klaus Iohannis announced on Wednesday he will attend the funeral of former Israeli president Shimon Peres, whom he called a "visionary leader." The state funeral is due to take place on Friday in Jerusalem.
"Shimon Peres will stay in our memory and that of the humankind as one of world's personalities that is beyond comparison, a truly visionary leader, through his entire political activity as prime minister and president of Israel, founding father of the state of Israel, tireless fighter for a surable solution in the peace process in the Middle East and Nobel Peace Prize winner," President Iohannis said in a message. "He was a true statesman, from whom peace always represented a path to be followed, with a deep trust in humanity and progress. In Romania, we will always remember his sincere and profound friendship towards the Romanian people, Shimon Peres being the first Israeli president to ever visit Romania in 2010," the message reads.
According to the Presidential Administration, Iohannis will attend the funeral, which will take place on Mount Herzl.
The former Israeli president passed away on Wednesday in Tel Aviv, aged 93.
Numerous heads of state, including Barack Obama, as well as high officials from the UK, Canada will attend the funeral. US presidential candidate Hillary Clinton will also be present, alongside former US president Bill Clinton. Pope Francis is also expected to attend. Senate Speaker Calin Popescu Tariceanu will also travel to Israel for the funeral.
Georgeta Gheorghe