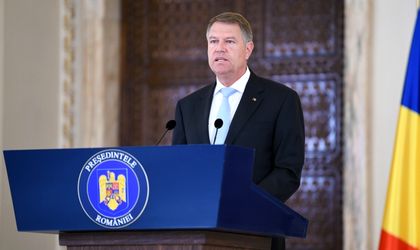 President Klaus Iohannis said on Monday  that Romania is not ready to take over the presidency of the Council of the European Union because "things have gone astray."
"I have a great deal of concerns about for 2019, when Romania takes over the presidency of the EU Council, a very honorable and demanding position, especially for the Government. My opinion is that we are not prepared for this. A few weeks ago I said that we would do it reasonably, only in the meantime things went mad, the government did not understand who the responsible persons are and the people who should deal with it are resigning or are dismissed. I believe that there is a political necessity is to replace this crash of the Romanian democracy that is the Dragnea-Dăncilă Government. There is no prospect of good governance and involvement in European affairs. This is very serious ," said Klaus Iohannis at the meeting of the General Assembly of the Association of Municipalities in Romania.
The Deputy Minister for European Affairs Victor Negrescu resigned on Friday. The resignation comes less than two months after Romania took over the presidency of the Council of the European Union. Victor Negrescu was in charge of Romania's draft preparation and exercise of the rotating presidency of the EU Council.
Klaus Iohannis also said the tax changes made by the last governments are unfortunate and the hope is in local authorities.
"Unfortunately, not everything is going well. No matter how good a mayor is, he is not alone in the space where he works, he has to relate to those from the County Councils and also those from the center. Usually because mayors want to move, but Governments seem more reluctant. This reticence is frustrating. To recall just a few promises that had remained on paper, decentralization. You have been promised, but it has not been achieved. The second question, which is always presents, the money. It is not only that you have not been given a bigger base, but recently it has been done recently, the so-called tax reform. A big trick, in which the Romanians were apparently given more money, but in reality all local communities have lost (…) The policies towards local communities must be made transparent, predictable and sustainable," said Iohannis.
The head of state says that the chances of developing cities are depending on the people that lead them.
"There is an enormous chance for Romania, this is the chance for you and your colleagues from the other territorial administrative units. Romania is changing and you must be the ones that take the changes to the citizen. I know your accomplishments and I can tell that they are impressive," the president said.