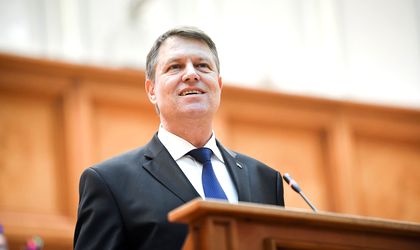 President Klaus Iohannis announced on Thursday that he will postpone any decision regarding ruling party PSD's proposals for new ministers until after Romania's National Day on December 1. He also refused to sign the dismissal decree for current Transport minister Lucian Sova, who submitted his resignation earlier today after he was part of PSD's plans to reshuffle the Dancila government.
Earlier this week, PSD submitted new names to head several ministries in Dancila's team. The president agreed with some of the proposals, but rejected nominations for the Development and Transport ministries – Ilan Laufer and Lia-Olguta Vasilescu – and also refused to sign the dismissal decrees for the current ministers. Later, PSD proposed Vasilescu for the Development Ministry and Mircea Draghici for Transport.
According to a Constitutional Court decision, the president is only allowed to reject one proposal for each ministry, but there have been no decisions saying that he must sign dismissal decrees for government ministers within a specific amount of time, meaning that he can theoretically postpone such decisions indefinitely (or until the Constitutional Court provides a new interpretation).
"I received today, two days after the government reshuffle, a new proposal for a government reshuffle. This is not a good sign. We've had PSD-ALDE governments for less than two years. Things are going badly in terms of governance. PSD is already at its third government in under two years. An enormous number of people have been changed from their positions as ministers. I've counted them, there are 70 politicians who have been or are currently ministers in these governments. This is not the right way to govern. It's impossible to change ministers every other day. I do not want to contribute to this type of government, which looks more like a carrousel. In this sense, there won't be any new change of ministers this week, and the proposal I got today will be analyzed after the celebrations for the Centennial and the National Day on December 1, at the earliest," Iohannis stated.
Asked whether he will take note of Lucian Sova's resignation from the Transport Ministry, Iohannis said that nothing will change until after December 1.
He added that he is not worried about a possible impeachment, since none of his actions have been unconstitutional, whether his political rivals like it or not.
"I don't think you expect me, after I've said that this government is an accident of democracy, to start doing an evaluation of ministers. My evaluation of the PSD-ALDE governments is that they are very weak. And national holidays must be properly respected. I don't think Romanians need a circus and reshufflings now, during a national holiday. Let's celebrate it in a proper way and then we can return to the daily circus," the president said.