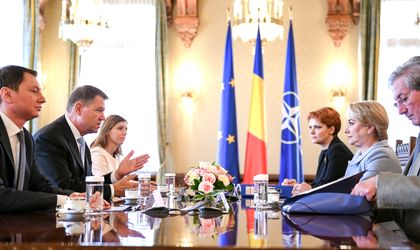 President Klaus Iohannis met with PM Viorica Dancila and Labour minister Lia-Olguta Vasilescu at the Cotroceni Palace.
The meeting took place at the request of the President, who wanted to discuss the effects of applying legislation regarding public system salaries in the first quarter of the year, from the point of view of principles and commitments around salary policy made by the PSD-ALDE coalition last year.
According to a press release by the Presidency, Klaus Iohannis warned the government that, after 3 months since implementation, the effects of the new legislation show that the law is in contradiction with the principles of equality and predictability which were supposed to be the law's basis, as there have been separate interventions for specific categories of employees, which cancels the unitary character of the law.
The PM presented the salary situation to the President, offering assurances on the stability of the financial resources needed for the implementation of the salary law and salary increases decided until now.
President Iohannis argued that some of the measures taken have led to decreases in the salaries of some employees, both at the central and the local level, and that these consequences had not been foreseen by the government. Despite the fact that the executive had promised 25 percent increases from January 1, these increases were actually cancelled through the fiscal contrivance of shifting the responsibility of social contributions from employers to employees.
The president also believes that this "carousel of changes and unpredictability" has to be avoided, in order for the salary law not to lose its foundation due to the fact that continuous amendments are being made which on one hand solve some problems and on the other hand create new ones.
On the long-awaited increases in the salaries of doctors and educational staff, which are measures that will only partially resolve the background issues in these sectors, the President said that such salary increases have to come together with guarantees for the future to ensure the achievement of the policy objectives.
President Iohannis also noted that, with a background of fiscal-budgetary policies that are imprudent and not correlated with the overall dynamic of the economy, there is a risk that the purchasing power of Romanians could continue to fall. The transfer of contributions and the reduction in the income tax from 16 to 10 percent has led to an insignificant growth of net salaries,  of around 5 percent, in the public sector. But even this minor increase is cancelled by the high growth rate of inflation, which reached 4.7 percent in February 2018.
In conclusion, the President demanded caution from the government regarding economic policy, so that it can ensure the sustainability of citizens' living standards.
Photo: presidency.ro