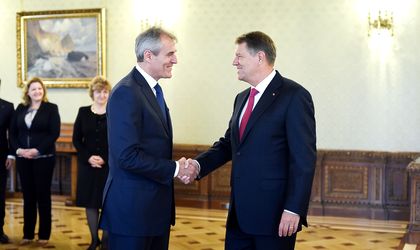 On Tuesday President Klaus Iohannis received at the Cotroceni Palace an OMV Petrom delegation headed by OMV CEO Rainer Steele. Talks focused, among other, the need for legal and fiscal predictability in the energy sector.
According to a statement by the Presidential Administration, the agenda of the meeting included a presentation on the company's development opportunities in the current economic context, the possibilities to consolidate at a regional level the energy sector. The meeting also included talks on the need for fiscal and legal predictability in the sector, which can maintain the interest in development.
"The Romanian president underlined the fact that Romania's energy independence and security are his crucial objectives, in the European context of an integrated market, based on free access, competition and competitiveness," the presidency said in a statement. Accordingly, the meeting highlighted the potential for collaboration between OMV and ExxonMobil on the exploitation of hydrocarbon deposits at the Black Sea and to renew the cooperation and dialogue agreement between OMV and the Romanian state.
Georgeta Gheorghe