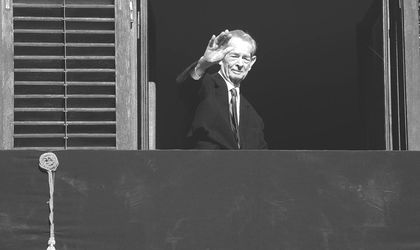 Romanian authorities, politicians, and other public figures have reacted to the death of King Mihai I, which was announced on Tuesday. 
The former monarch was a revered figure, due to the complex role played in Romanian history and was popular with the Romanian public. During his first public statement after the death of the former Romanian monarch was announced, President Klaus Iohannis said the country will observe one or several national days of mourning.
"It is a great loss for Romania, for Romanians. Condolences to all members of the Royal House. Romania will organise all ceremonies as it is due and certainly we will have national days of mourning," Iohannis said at the meeting with ambassadors of EU member states, in Bucharest.
"The Romanian people bids a sad farewell to King Mihai, a model of morality and dignity for Romanians, a figure that had a big impact on Romania's history. We will always miss him, even the more so next year, when we will celebrate the centenary of the Great Union of 1918, a moment with a great significance for our nation," Romanian Prime Minister Mihai Tudose wrote on his Facebook page.
"The memory of his Majesty will live on. Condolences to the Royal House of Romania, we stand by you and assure you of all our support. May he rest in peace!" the message said.
Tudose ended his tribute to King Mihai I with an excerpt of the latter's speech before the Romanian Parliament in 2011. "Our chief duty today is to remember all those who died for the independence and our freedoms in all the wars we had to wage and in the December 1989 events, which toppled the Communist regime. We cannot have a future unless we respect our past," King Mihai I of Romania said in 2011.