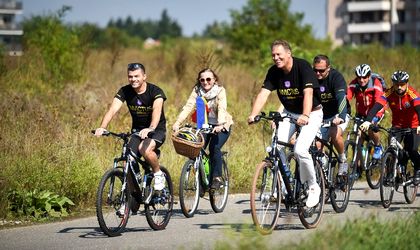 Romanian President Klaus Iohannis cycled on Thursday alongside participants to the "We cycle for Invictus 2017" campaign. The head of state, who is passionate about cycling, said he participated in the event because he "cares about Romanian troops."
"First of all, it was a great pleasure to cycle for our heroes – troops wounded în Afghanistan, who want to participate în a special competition, Invictus, in 2017, and I hope în many other editions after that," Iohannis said. "It is very important to know that Romania participates with troops în several theatres and in Afghanistan only we have 25 heroes who died and over 100 wounded heroes and many of them want to continue to practice sports. I find this symbol extraordinary, this power, will to continue and this was the main reason why I participated today, to show them that I see these things and I care about them. I do not care only about them," the head of state said, "I care about all our troops that are in different theatres of operations and I want them to know I am thinking about them," Iohannis said.
According to the Romanian president, Romanians need to spend more time doing sports. "I cycled, I rode the bycicle. I believe it is a very good thing, very healthy and in Romania we need to do more sports, more mass sports movements andd more sportsmen and women," Iohannis said. The Romanian head of state said he does sports as soon as he has free time.
The campaing "We cycle for Invictus 2017" was launched by the Povestasii Association and Invictus Romania. The purpose of the campaign was to raise funds to support the participation of Romanian troops injured in the Afghanistan theatres of operations in the Invictus Games 2017, to be held in Canada next year.
Georgeta Gheorghe