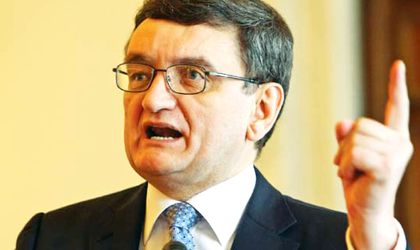 President Klaus Iohannis has criticized the decision of Ombudsman Victor Ciorbea to bring to the Constitutional Court the Law 90/2001, which it described as "a move with a unique beneficiary." The law on the organization and functioning of the Government and ministries prohibits those convicted to become members of the Executive.
"The Romanian President is outraged by the act carried out by the Ombudsman this morning, a move with a unique beneficiary," the president's spokeswoman Madalina Dobrovolschi said on Thursday. "At the same time, the Romanian president is surprised by how quickly the Ombudsman wanted to make itself useful to the new political majority through an initiative that defends the right of those with a conviction to their name to rule us," Madalina Dobrovolschi added.
According to Dobrovolschi, in 2001, the year the law was adopted, Romania was in the process of joining the EU and NATO.
"In 16 years, nobody, never saw this moral criterion as a problem for Romania's politics. In 16 years, the Ombudsman, regardless of the name of the person who occupied this function, did not believe that the text of the law is a problem for the rights and freedoms of the citizens, therefore this law, in this long period, was not challenged, because after all it is in everyone's interest that society should be ruled by people with integrity," Dobrovolschi said.
In reply, Liviu Dragnea said: "I have a few comment, let me get this straight: I do not intend to become Prime Minister right now. Not now, not tomorrow, not this year."
On Friday the first deputy president of the National Liberal Party (PNL) Catalin Predoiu asked for Victor Ciorbea's resignation. Moreover, an online petition requesting Ciorbea to step down had gathered almost 97,000 signatures.
Georgeta Gheorghe