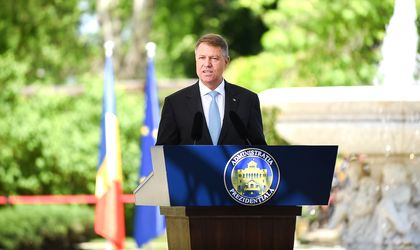 President Klaus Iohannis said that following the adoption of the education law in Ukraine, which restricts teaching in national minorities' language, he canceled his scheduled visit from October, communicating this directly to president Petro Porosenko, whom he met at the General Meeting of the UN.
Iohannis added that the new law is an "unpleasant topic" and the last discussion regarding his visit in Ukraine was during the NATO meeting in Brussels.
"I was very very displeased with the evolution in the Ukrainian Parliament, which without announcing the partners, us also being one of Ukraine's partner, promoted a law, that in our opinion, contradicts the reciprocal good intentions and basically this law, if enter to force, will limit drastically the minority's access to education in mother tongue. And this thing affects us, we have many Romanians in Ukraine and I can tell you that my idea with the visit in Ukraine was to go together in Ukraine's Bucovina area, where there are many Romanians, to show that we care," said Iohannis.
He added that this law came into force at a very inappropriate moment and the entire approach has to be discussed.
"It happened that I met with Porosenko on UN's halls and I told him these things. I told him directly that I won't make this visit until there's a progress in this education law and that I'm displeased about this evolution," said Iohannis.