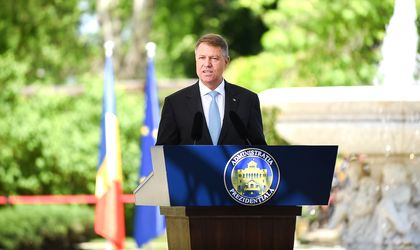 President Klaus Iohannis says that an impressive number of "influential politicians" are attacking the judiciary and the civil society should react, addressing people that want Romania to have a rule of law and an independent judiciary.
"I don't want to create the impression that I want to call people to protest or to have major conflicts, but a healthy society – and I want to have it for Romania – is obliged to publicly debate these issues, because they affect us all," said Iohannis.
The president was set to meet on Wednesday with representatives of the civil society, mainly associations that have urged the head of state to protect the independence of the judiciary.
"Before the elections I told the people on several occasions that it is very bad for persons that are prosecuted or received sentences (…) to reach leadership positions in the state because automatically there would be a huge pressure on the judiciary. And this is what is happening right now," added Iohannis.
Speaking about the investigation of anti-graft prosecutors against two ministries, Iohannis said he would have expected Sevil Shhaideh, deputy PM and minister of Development, and Rovana Plumb, the minister delegate for EU funds, to resign or be withdrawn by the ruling coalition.
Instead, the center-left wing coalition in power comprising PSD-ALDE said it would provide political support for the two ministers, claiming they were innocent.
Meanwhile, the coalition is backing controversial amendments to the judiciary, which for instance would exclude the president from the appointment procedure for Romania's General Prosecutor or the head of the Anticorruption Department DNA. The changes have to be debated and voted in Parliament, where the current coalition in power has a majority.