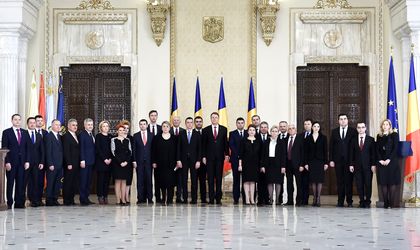 President Klaus Iohannis has asked the ministers of the new government led by Sorin Grindeanu to make sure that the country doesn't register fiscal slippages that could hurt the public finances. The head of of state added that the Grindeanu government has to focus on increasing the role of Romania in the European Union and the North Atlantic Treaty Organization (NATO).
Iohannis told the ministers that they have to support an independent judiciary in Romania, because this will lead to a consolidation of the rule of law.
"We can't imagine in Europe a democracy without an independent judiciary and without the rule of law," said the president, after the new government was sworn in.
The president added that everybody expects from the new government to manage in a responsible manner the economy and the public finances.
"It's extremely important that after you increase the wages, lower the taxes, cancel some taxes, to hit a level of sustainability so as to have a reasonable debt, to have a deficit of public finances below 3 percent, and the most important thing is that while you fulfill all these measures, please take care that the Romanian economy grows," said Iohannis.
The president acknowledged that Romania championed economic growth in Europe this year, but this pace has to be maintained for a longer period so that the country can catch up with other EU economies.
The economy was set to exceed a 5 percent growth rate in 2016, according to estimates of economists. However, the experts predict that the local economy will slow down this year, and should grow by around 4 percent of GDP.
Lastly, the head of state told the government officials that they should make sure Romania will remain a pillar of stability and security in the region.
The first meeting of the left wing government took place on Wednesday evening.
Ovidiu Posirca