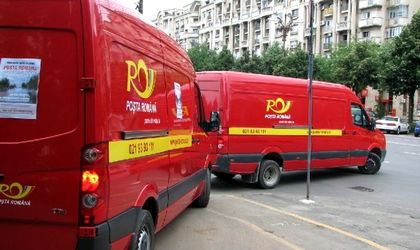 Posta Romana registered revenues increase by RON 17 million in December 2017 and in the last quarter of 2017 there was an year-on-year increase by almost 20 percent in revenues, said the general director of the National Company Posta Romana, Elena Petrascu.
"The company has the necessary resources to reinvent. I'm starting with this, because I want everybody to know a feeling of trust in Posta Romana. We ended 2017 with positive figures. We registered an increase in the revenues in the last quarter of 2017 close by 20 percentage points compared with the previous quarter. I can tell you that we registered an average growth in revenues of RON 17 million/month. Since the moment I took over the mandate of general director of Posta Romana, the entire team has found solutions for the flows efficiency, the reduction of costs and last, but not least, the tariffs renegotiation. Thus, there are some solutions that led to the increase in revenues: Posta Romana is paying its debts; we made payments monthly to ANAF, but also to other creditors; we paid the debits for 15 partners of cash-collection. We make in average payments to ANAF of approximately EUR 3 million monthly. And the last days we paid our debts to Telekom Mobile, " says Petrascu.
According to Petrascu, Posta Romana cashed in from Chinese Post an older debt of approximately USD 1.5 million.
"Since the beginning, we developed solutions, plans and priorities for the company redress. We recovered fast accumulated debts. We attended tenders and we won contracts in better conditions that the previous years and we succeeded to make the first steps for Posta Romana' redress," concludes Petrascu.
Posta Romana is owned by the Romanian state, via the Ministry of Communications and for Information Society for 75 percent stake, and by Fondul Proprietatea for 25 percent.