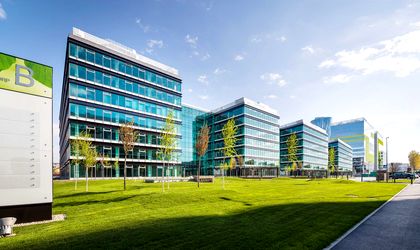 Real estate developer Portland Trust and the American investment fund Ares Management will invest EUR 50 million in the development of the third building at Oregon Park, the office project located in northern Bucharest.
The third office building will have a surface of 25,000 sqm and should be completed by the end of 2018.
Robert Neale, the CEO of Portland Trust, said that the multinationals in Bucharest are in expansion mode, adding that there is high demand for office space at this moment. Although he did not name companies interested to become tenants in Oregon Park's Building C, he explained that this will be one of the few office buildings coming on the market next year. Catering firm Flavours has already confirmed the opening of its second Stradale restaurant in Building C of the office complex, and negotiations are under way for the opening of a gym at the ground floor.
In this office complex which will span 70,000 sqm when fully built, the developer has attracted a series of multinational firms. For instance, Oracle has fully leased Building A, while Building B has around 6,000 sqm of office still vacant. In this building, Deloitte has expanded its technology operations on a surface of 5,500 sqm, while two other tech firms have signed leasing deals for 3,600 sqm. The developer aims to fully lease Building B by the end of this year.
Neale said that Portland Trust will also start the development of a new office project called Bluerose on Expozitiei Boulevard, near exhibition center Romexpo.
"We hope to start building at Expozitiei this year," said Neale, adding there in this area there will be an office complex with several building and a car park. It should be finished by mid-2019, according to the executive.
Since 1999, the joint venture Portland Trust and Ares Management has invested around EUR 400 million in the development of 306,500 sqm. More than half covers six office projects, while 145,000 sqm cover the industrial and logistics spaces developed in Bucharest Park, the project taken over by CTP.