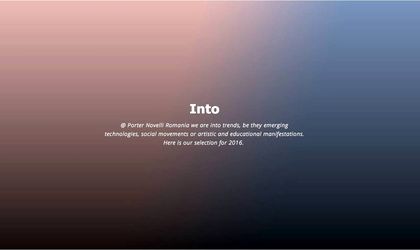 Porter Novelli Romania agency has received the certificate of excellence, in the category "Thought Leadership in PR" at In2 Sabre Awards EMEA 2016. The distinction was awarded for the INTO instrument, a communication brand tool developed by the agency's innovation division. 
The agency had developed a platform that maps the trends of the cultural, scientific and educational Romanian scene and the emergent communities generated by the latest trends. The platform's objective is to connect the subcultures and the creative communities with the inovative brands.
"At Porter Novelli Romania, we believe we approach differently and innovative the PR communication and the award and the category in which we won legitimate both the team's know-how and the agency's vision. The idea of the INTO platform and its content are crayoned by our Porter Novelli Innovation division and the result of a process that took more than 1 year. The international recognition in the PR industry, by the Excellence Certificate in the Thought Leadership in PR category at In2 Sabre Awards EMEA 2016, encourages us to continue on the same trend," said Sorina Mihai, managing partner at Porter Novelli Public Relations
Porter Novelli Romania is affliated to the international network Porter Novelli and is a member of thegroup.
Romanita Oprea