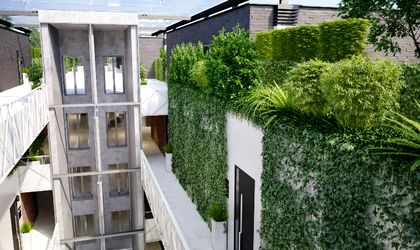 Austrian construction company Porr Construct will be the general contractor of the Vox Verticall Village residential project. Porr will realize both the foundation and the superstructure works. The project is being developed in Timisoara by Vox Property Group following an investment of EUR 14 million and will be delivered on the market at the end of 2019.
Vox Verticall Village is a premiere concept on the residential market in Romania and will be the first vertical city developed locally. The project will bring together 120 homes in a 10-storey building and will involve the development of a vertical forest, over 1,000 shrubs and plants being cultivated on both inside the project and on the terraces of the dwellings.
Thus, over one third of the built area of ​​the Vox Vertical Village will be represented by green spaces and terraces.
"After allocating the design for a period of more than a year to realize a unique project in Timisoara and nationwide, I have appointed as a general contractor one of the largest construction companies active in Romania. Vox Verticall Village is a unique residential project on a national level, a veritable city with large communal spaces, numerous green spaces and top finishes, " Virgil Tornoreanu, managing partner of Vox Property Group, the developer of the project, says.
138 parking spaces
Vox Vertical Village will also have an underground and above ground parking lot consisting of a total of 138 parking spaces – 94 underground and 44 ground level.
Porr Construct has several large-scale projects in Romania, including the Orhideea Towers and Bucharest Business Garden office projects in Bucharest.
Business Garden Bucharest, which sums up 43,000 sqm of leasable, is an assembly of three high-rise buildings simultaneously. The ensemble provides for the construction of Class A office spaces and commercial areas on the ground floor of buildings, with easy access through multiple means of transport. Green spaces will occupy 30 percent of the land. Between the buildings will be arranged a spacious interior garden. The commissioning of the buildings is planned for the second half of 2018.
Orhideea Towers is a sustainable complex that will provide generous office space as well as adjoining spaces with maximum flexibility depending on the tenants' needs. The ensemble of two buildings (North and South) totals 39,667 sqm, with a basement base of 16,663 sqm.
Vox Verticall Village will be built in close proximity to Vox Technology Park, also developed by Vox Property Group following an investment of 30 million euros. The company has been active for many years on the residential market in Timisoara, while Virgil Tornoreanu, managing partner of Vox Property Group, is a successful local entrepreneur with activities on the real estate market and in the IT & C sectors.