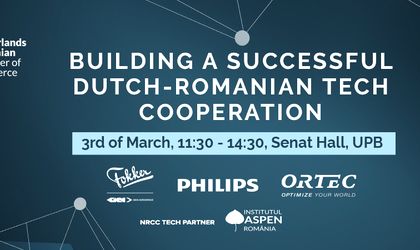 The Netherlands Romanian Chamber of Commerce (NRCC) will organize an event to mark the cooperation between POLITEHNICA University of Bucharest (UPB) and three leading Dutch tech companies active in the Romanian market with a special event that will take place at the UPB on March 3.
The event will include a series of short presentations of the projects developed by Fokker Engineering, ORTEC and Philips in cooperation with different UPB faculties. Also, a special signing ceremony will take place, making the agreement between Fokker and UPB official. The event will end with a Cocktail Drink.
NRCC is one of the most active bilateral chambers in Romania. Since 2006, by means of dedicated events and industry-focused projects, we support and promote the Dutch-Romanian business community. After 10 years of activity, NRCC network now includes over 180 members, representing more than 20 industries.
Romanita Oprea