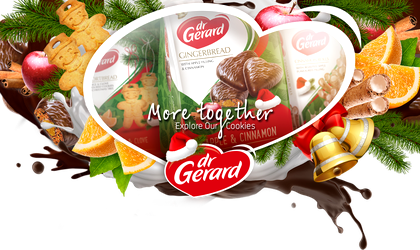 The consumption tendency shows that in December sweets' sales triple in Romania, with over 7.4 million kg of sweets in value of EUR 43 million. The Polish producer of biscuits, wafers and crackers, Dr. Gerard, which entered the Romanian market a year ago launches with this occasion three new products with Christmas flavours.
"In Romania, the favourite flavours for Christmas are baked apple and apples with cinnamon. The clove and citrus are also among the favourite flavours. To satisfy the Romanian demand, Dr Gerard prepared this season three new products designed for 'Moments Together' close to Christmas: the crispy cookies with orange and clove flavour, crispy rolls with baked apple glaze and ginger bread with apple and cinnamon," says Otilia Stancu, country manager Dr. Gerard Romania.
The data supplied by Retail Zoom show that December 2015 brought sales in value of EUR 43 million and the trend is expected to be maintained also this year. The biscuits held the first position as volume, with a market share of 24.3 percent and the second as value, with 16.4 percent, while the wafers represented 7.1 percent in terms of value and 10.3 percent as volume.
The Romanian consumption behavior is very similar with the Polish one. The consumers from both countries buy biscuits in bulk, while in Chezh Republic and Slovakia people they prefer small packs of biscuits.
A Romanian consumes on average over 2.1 kg of biscuits per year, a growth of 70 percent compared with 10 years ago, but under the European average, of 3.5 kg/capita.
"The entrance on the Romanian market was produced with ranges from all the three categories in traditional retail and afterwards the first retail chains followed: Mega Image, Carrefour and Auchan. Recently the C&C Selgros stores chain had began the partnership with Dr.Gerard. We are present in 10,000 stores. We estimate a turnover of over EUR 4 million in 2016 in Romania, for a volume of approximately 2,000 tonnes of products. We aim to grow our acquisitions," says Jaroslaw Zawadzki, general manager Dr. Gerard Group.
Dr. Gerard's headquarter is in Warsaw, Poland and the production is made in three factories in Ozarow Mazowiecki, Miedzyrzec Podlaski and Radzyn Podlaski, that own 18 automatized production lines. The sales focus of Dr. Gerard is on Central and Eastern Europe.
Georgiana Bendre