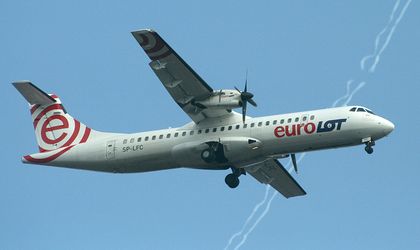 Eurolot, subsidiary for Lot Polish Airlines, will introduce Warsaw – Cluj-Napoca route on October 27 with a frequency of six flights per week, except on Sundays.
The company made the announcement on its Facebook page on Wednesday, and outside of Cluj-Napoca, Eurolot announced new routes from Warsaw to Chisinau, Zagreb and Stuttgart. Sale of tickets for Cluj-Napoca – Warsaw flights already started on August 20 on the airline's website. A ticket purchased for a return flight in November between the two cities will cost approximately EUR 188.
Eurolot S.A. (previously styled as EuroLOT) is based in Warsaw, Poland. Established as a wholly owned subsidiary of LOT Polish Airlines, its current main shareholder is the State Treasury with 62.1 percent of shares, while Towarzystwo Finansowe Silesia is the minority shareholder with 37.9 percent shares.
Apart from its own flights under the eurolot.com brand, it operates short-haul flights for LOT, as well as ad-hoc charter flights. Its main base is Warsaw Frederic Chopin Airport (when operating for LOT), whilst its own flights centre around its hubs at John Paul II Kraków Airport and Gdańsk Lech Wałęsa Airport.
The Cluj-Napoca Avram Iancu airport is the second most transited airport in the country after Otopeni, with 512,000 passengers recorded in the first half of the year, a 11 percent increase compared to the same period in 2013.  CEC Bank approved a EUR 11 million loan on Thursday for the airport to build a new runway, according to zf.ro.