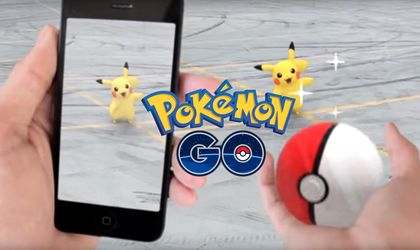 The Pokémon Go app, which has become an instant hit over night in the US, was launched in 26 European countries on Saturday, including Romania.
The smartphone game Pokémon Go has become a massive success since its official launch. The app is still in beta stage. The game has dominated the US and Australian app stores, according to the Financial Times.
The app has also registered retention rates above the industry average. Pokémon Go passed Twitter in terms of daily active users on Android as of Monday, according to SimilarWeb. In addition, users were spending more minutes daily in this app than they did on Facebook.
"Pokémon GO is available in twenty-six new countries. As of tonight, Trainers living in Austria, Belgium, Bulgaria, Croatia, Cyprus, Czech Republic, Denmark, Estonia, Finland, Greece, Greenland, Hungary, Iceland, Ireland, Latvia, Lithuania, Luxembourg, Malta, Netherlands, Norway, Poland, Romania, Slovakia, Slovenia, Sweden, and Switzerland are able to download Pokémon GO from the Play Store or App Store," said the company in a Facebook post.
According to estimates from thinkgaming.com, Pokémon GO registers a daily revenue of around USD 1.6 million. The company makes money by selling certain items and features via in-app purchases.
The app, developed by Niantic Labs and part-owned by Nintendo, sees players walk around real-life neighborhoods to catch virtual Pokemon characters on their smartphone screens.
The game servers crashed on Saturday in the US and Europe due to high demand for the app.