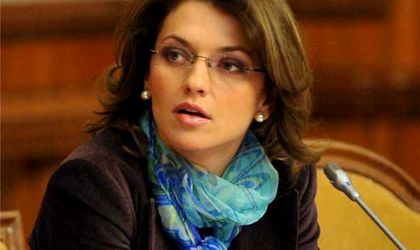 Alina Gorghiu has stepped down from the position of head of National Liberal Party (PNL) following the heavy defeat in the December 11 parliamentary elections.
"Starting yesterday already I had talks with my colleagues, local leaders, the central leadership and for me there isn't another option than that of stepping down," Gorghiu said in a press conference.
The Liberal party PNL, which got 20.26 percent of votes at the Chamber of Deputies and 20.64 percent at the Senate. After the count of 99 percent of the votes, the Social Democratic Party (PSD) got 46.21 percent of the votes at the Chamber of Deputies and 46.40 percent at the Senate.
Gorghiu, a Law graduate, who joined the PNL in 2002 and has held two elected offices. From 2004 to 2008, she was a local councillor on the Sector 5 council in Bucharest. In 2008 Gorghiu was elected to the Chamber of Deputies.
Alina Gorghiu served as the PNL spokeswoman. After PNL president Klaus Iohannis was elected President of Romania, he resigned prior to starting his term. He endorsed Gorghiu, who sought election and defeated Ludovic Orban to become the party's youngest leader and the first female to head the PNL. After the PNL merged with the Democratic Liberal Party (PDL), Gorghiu became co-chair of the PNL, alongside Vasile Blaga.
Blaga stepped down in September after he was prosecuted by the National Anticorruption Directorate (DNA) under influence peddling allegations.
According to DNA prosecutors, in 2009, Vasila Blaga received EUR 700,000 for himself and for the party in return for influence. Former Piatra Neamt mayor Gheorghe Stefan is also accused of influence peddling and for using the influence arising from his leadership position in a political party with the purpose of obtaining money, goods or other undue benefit, in the same case.
The National Liberal Party (PNL) endorsed PM Dacian Ciolos for a new term prior to the elections.
Georgeta Gheorghe