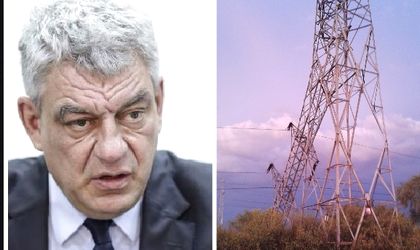 Romania's PM Mihai Tudose has criticized the local subsidiary of Italian utility Enel, suggesting that the firm not reconnecting consumers to the grid fast enough, following the storm that hit several counties in western Romania on Sunday evening.
While praising the rescue efforts of workers from the ministries of interior, defense and health, Tudose said the exception was Enel, claiming they were "terrible". "This can't be possible, supposedly it will last for another few days," said the PM, referring to the grid repair efforts following the heavy storm that killed 8 people and injured 137.
He went on to say that there were a lot of localities that "did not have electricity at the schools, the hospital or the clinic (…) There are schools that were not hit physically due to the wind, but which were out of power," according to HotNews.ro.
Tudose also explained that the National Weather Agency (ANM) issued the bad weather alert half an hour before the start of the storm because this "is not a typhoon to follow it on the map with a few days in advance."
Close to half a million consumers suffered power outages due to the storm which had wind gusts around 100 km/h.
E-Distributie Banat, part of Enel Group, said on Monday afternoon that it was able to resume the distribution of power to over 130,000 clients, accounting for 60 percent of the total number of users affected by the blackout.
The company said that the strong winds destroyed some electricity pillars made from concrete and metal in Timis, Caras Severin, Hunedoara and Arad counties. Enel said it got teams from other parts of the country for the repair works.
E-Distributie Banat said it had 57 of its own teams and 16 from its contractors on the ground as of Monday to make repairs to the grid in the affected areas.