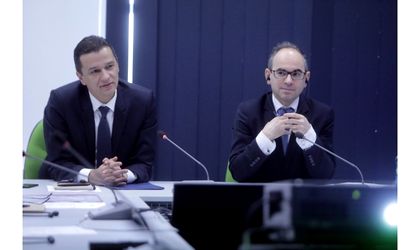 Romanian PM Sorin Grindeanu said that the planned highway linking Pitesti to Sibiu cities remains a priority.
The comment was made during a joint press conference with the director of Renault Romania, Yves Caracatzanis. The PM visited the research and development center that Renault operates near Titu.
"Here we talked with Renault representatives, and I am not the first, and hopefully I will be the last to talk about infrastructure. This topic has been discussed since 2007. I think it's time to leave behind the words and focus on the action. I have ensured Renault representatives that infrastructure, and especially the Sibiu-Pitesti highway segment, is one of our priorities," said Grindeanu.
The PM suggested that several infrastructure projects could be kicked off after the government approves the simplified public acquisitions framework for strategic sectors.
Meanwhile, Caracatzanis said that aside from infrastructure, he talked to the PM about the education sector, the market for new cars and the competitiveness of the economy.
The car maker has been calling for years for the construction of the Sibiu-Pitesti highway segment. The company suggested that such a project could help Dacia, controlled by Renault, to reduce the logistical challenges generated by the current network of roads that needs massive improvements.
Renault has around 16,000 employees in Romania and is one of the two car makers located in Romania, alongside American car manufacturer Ford.