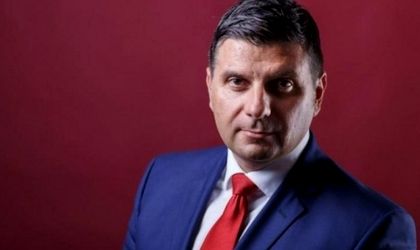 Romanian Prime Minister Sorin Grindeanu has nominated Minister of Economy Alexandru Petrescu as interim Minister for the Business Environment, Commerce and Entrepreneurship after the resignation of Florin Jianu on Thursday.
The proposal was sent to President Klaus Iohannis on Friday.
Florin Jianu resigned saying that "Romania doesn't deserve what's happening right now and Romanians don't deserve what's happening to them at this moment."
Jianu is the first minister to step down after the wave of protests triggered by the changes brought to the Criminal Codes by the Grindeanu Government. The center-left government headed by Sorin Grindeanu has been in power for little over one month. Jianu added that the he doesn't want his resignation to be used for political purposes, adding that he is a technocrat specialized in SMEs and entrepreneurship.
"It is a war I do not identify with and I want it to stop as soon as possible! There are people I appreciate in the current government that also don't deserve what has happened to them in the past two nights. There are people I appreciate in the PSD and whose good intentions and power to fight, I trust that could help recover what can be recovered: The competency and honesty," said Jianu, who worked as minister in the current government for 28 days.
"Romania does not deserve what is happening now, Romanians do not deserve what is happening to them now! I think of the entrepreneurial future of the country with a huge potential to innovate and to the magic words for entrepreneurs: predictability and stability."
Georgeta Gheorghe