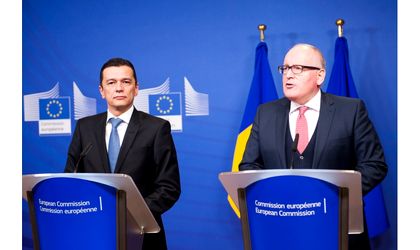 PM Sorin Grindeanu said on Thursday at the European Commission headquarter that he wants in 2019 to be no Cooperation and Verification Mechanism (MVC) for Romania.
"I can assure you (…) our wish is to have the right speed, so that the next report to be very good (…). I want 2019 without MCV," said Grindeanu during a joint press conference with Frans Timmermans, first vice-president of the European Commission.
At the same time, Grindeanu said that he talked to Timmermans about the stage of implementation measures of MCV.
"We'll send in the next period clarifications that we want to have from the recommendations from MCV, so that we'll know exactly what we have to do (…) the necessary steps so that we fulfill them as transparently as possible, as openly as possible, with the right speed what we have to do and we'll send to the European Commission the clarifications that we want," said Grindeanu.
According to Timmermans, the EC we'll respond to the PM's request.
"I accepted what the Romanian PM said, that not everything from the MCV reports is clear (…) I committed that we'll clarify what it is to be clarified so that the Government know what it has to do. And I am firmly convinced that you'll stay on this path, you'll be where we want. Where? In a situation where the fight has so much success that reaches an irreversible point. Without any connection to the political discussions, it has to be clear that it's a manifestation of the nation, Government and Romanian Parliament, that an irreversible situation is wanted and Romanian citizens be sure that their country is no longer in corruption danger. This is what MCV is about," said Timmermans.
Georgiana Bendre