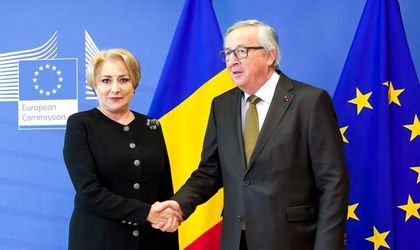 Romanian prime minister Viorica Dancila is in Brussels on a work trip and she has scheduled meetings with the European Commission president Jean Claude Juncker, as well as European commissioners for budget, agriculture and regional policy.
Dancila will hold talks with Corina Cretu, EU commissioner for regional policy, Phil Hogan, EU commissioner for agriculture and rural development, and Gunther Oettinger, EU commissioner for budget and human resources, according to an announcement by the government.
The Brussels trip aims to strengthen the Romanian government's dialogue with European institutions ahead of Romania's takeover of the Council of Europe presidency starting January 1, 2019.
The PM is expected to "reiterate the Romanian authorities' firm commitment to ensure a successful presidency, to highlight Romania's objective to contribute constructively to defining and promoting a common European interest, to ensure unity and cohesion between member states and bring citizens closer to the European Union," according to the government's statement.