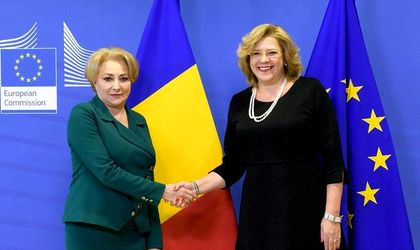 PM Viorica Dancila will meet today with Corina Cretu, the EU Commissioner for Regional Policy, as they both make a visit to Bacau County. In April, Corina Cretu had sent a letter to the government where she expressed deep worries about the planning and implementation of transport infrastructure projects, which are co-financed from EU funds.
Asked about Cretu's letter, Viorica Dancila said that the document is an evaluation of activity in the transport sector for last year, and that she will have a discussion with Corina Cretu on the subject. This afternoon, the two officials will visit several investment objectives in Bacau, and afterwards they will hold a common press conference.
In her letter to the Transport Ministry, Corina Cretu said she was "extremely worried" about the current status of infrastructure projects relying on EU funds, as many of them are delayed significantly and some may even risk being blocked as a result.
"I've already spoken to the Transport minister to see how we can accelerate the absorption of funds," said PM Dancila.
President Klaus Iohannis said last week that our country has "a major lack of achievements" when it comes to EU funds, adding that letters are being written but the issue is not being resolved. "I want Romania to attract EU funds because they are necessary for our development," Iohannis said.