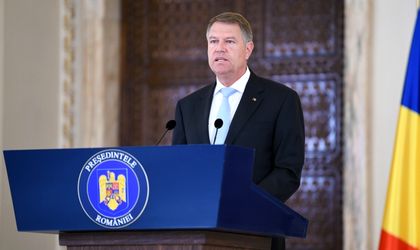 Prime minister Viorica Dancila has submitted to the Constitutional Court (CC) the referral on the issue of the government reshuffles, where president Klaus Iohannis has been delaying an answer. The president responded to the move in a press conference, saying that he had good reasons for the delay and that he would provide his arguments to the CC.
Viorica Dancila also said that the only uncertain situation on the eve of Romania's assumption of the presidency of the Council of the European Union is created by the head of state, who refuses to sign the appointment of Olguta Vasilescu as the Development minister and of Mircea Draghici as Transport minister. "We did not want this, but Romania's interests comes before the political or electoral campaign," Dancila said.
The government's notice was registered with the CC.
President Klaus Iohannis responded to the PM's statements in a press conference on Friday.
"The Constitutional Court will not solve the problem because it is a political issue, not a constitutional one. The two reasons for me delaying my answer are: first of all, de facto, Romania has no prime minister, and the second is PSD's inability to engage in any kind of politics.

The Prime Minister sent me a written reshuffle request without consulting me in any way. Then came another request, again without looking for dialogue. She finally called me yesterday and asked whether I had finished my analysis and when I thought I would have an answer ready. I told her very politely that it wouldn't be tomorrow or the day after and that I will see when I will be able to finish the analysis. I would have expected her to call or contact me and ask me what the problem was – why aren't you providing a response? This lady does not understand how the state works; we are not here to send papers to each other. We are here to solve the problems of the state through institutional dialogue. The second cause is the total inability of PSD to do politics. I find that the PSD, under Dragnea, has lost its ability to engage in politics. It is serious because this PSD is the governing party and has the majority in the Parliament.

The PSD is governing badly – this is what we have seen many times and we're seeing it now, when the prime minister is incapable of discussing to solve a problem. PSD is legislating very badly; I've asked for some data to see the types of laws the PSD was working on, but didn't get anything back. I've asked the Constitutional Court to check the laws in more than 30 cases, and in more than 25 of those cases the CC gave me the right to declare these acts partially or totally unconstitutional. Over 25 unconstitutional laws in one year.

Apart from this, the PSD does not negotiate anymore, but only tries to force its policies on everyone else. This is unacceptable.

If the CC has been notified, then I will wait for the CC's decision and I will see what needs to be done constitutionally. We will send the documents to the CC and you will see that my point of view is very well-argued.

A reasonable term for an institutional response should be defined to be reasonable for all actors.

The government's activity is not blocked, the Transport minister is working as he should, until new documents appear.

Prime Minister Dancila could come to me with papers and arguments. But she came with a reshuffle request without any explanation of why certain ministers were being revoked, and revocation is a political action, not a pleasure. She had an obligation to appear before the nation and to state her reasons for these decisions, but that did not happen. It is abnormal that the PM won't explain why she is doing a reshuffle. This way of leading is similar to a regime that ended in 1989."