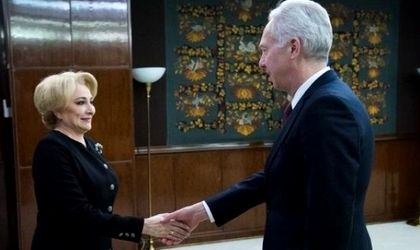 US Ambassador Hans Klemm met with PM Viorica Dancila on Monday at the Victoria Palace.
According to a press release by the government, Viorica Dancila approached the subject of possibly eliminating short-term visas for Romanian citizens who travel to the US, by including Romania in the Visa Waiver programme.
Dancila also highlighted the significant rise in resource allocation by the Romanian state towards the armed forces and expressed her certainty that the acquisition programmes will play an important role in the Strategic Partnership, with effects that go beyond the security collaboration, including a boost to the economic cooperation between the two countries.
The Prime Minister underlined the opening of the Romanian economy towards American investors, encouraging the Embassy to create a list of companies interested in investing in Romania as soon as possible.
Ambassador Hans Klemm expressed his trust in the continuation of the positive dynamic in the bilateral relationship, as well as the interest of the US Embassy in Bucharest to continue the dialogue with the Romanian institutions in order to implement common projects and take advantage of opportunities offered by the Strategic Partnership.
Klemm also congratulated Romania for promoting a model of gender equality by having the first woman prime minister.