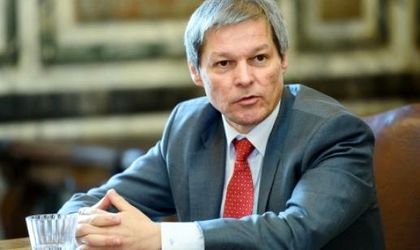 In a recent interview for Hotnews, PM Dacian Ciolos criticized the Ponta government for its poor performance when it comes to EU funds absorption. He argues that the previous government did "almost nothing" to prepare the programs for the 2014-2020 period.
The Ciolos government was the target of attacks from several politicians, including former PM Victor Ponta, who believe that the executive is underperforming when it comes to EU funds absorption.
In the interview Dacian Ciolos defended the level of EU funds absorption, which stands at 1 percent, little below the EU average of 1.5 percent. "We are at about 1 percent and numerous other member states do not even have that. Why isn't there more at European level either?It is very simple.
First of all – and thinks are very well known, including by the political leaders you mentioned, the absorption of European funds is not linear. In the first years of the financial cycle, 2014-2020 in our case, absorption is low – the institutions are being accredited, programs guides, tenders are launched, and then programs are started. The funds absorption starts growing significantly in the second half of the financial period.
According to the PM, the absorption of EU funds for the 2014-2020 period started in effect in May 2016, almost two years after the start of the financial cycle, after the current government managed to "grub the weeds left by those who are now shouting from the side."When we took over, we noticed very fast that, almost nothing had been done to prepare the 2014-2020 programs… This is yet another reason why a discussion about absorption is misplaced today, especially when the criticism comes from representatives of the former government," Dacian Ciolos told the news website.
"From my point of view, the preparations should have started in 2013 at the latest. It did not happen this way. They started, for the most part, once we arrived, at the end of 2015," Ciolos added.
Instead, the PM argues, talks on the topic should include the financial cycle 2007-2013. "When we took over, the absorption [rate] was 56 percent. Now, the absorption on payment applications sent to the European Commission stood at 78 percent and we are working to close these programs with over 80 percent. In practice, this government brought to the country this year almost three billion euros extra. You do the math to see how much this growth within months means compared to what was done previously," Ciolos said.
Georgeta Gheorghe