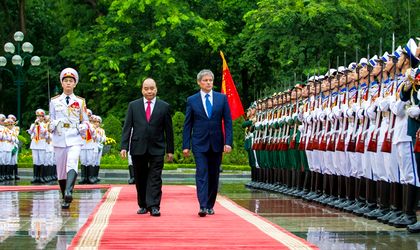 PM Dacian Ciolos and his Vietnamese counterpart Nguyen Xuan Phuc have discussed on Tuesday in Hanoi about resuming the cooperation between the two countries. This is the first visit by a Romanian prime minister to the Socialist Republic of Vietnam in 21 years.
"Our traditional relations are well known. Romania and the S.R. of Vietnam have been cooperating for 66 years and we want to keep on strenghtening these relationships based on friendship, starting also from the pragmatism and realism of the world we live in," PM Ciolos said during official talks between the two delegations.
"Vietnam has been experiencing an impressive economic development in these past years and Romania wants Vietnam to become a provileged partner in this part of Asia. This is one of the reasons for us being here," PM Ciolos added.
The talks were followed by a joint press conference where the Vietnamese PM announced that the two parties had agreed to encourage and support companies and investors from the two countries. "We have agreed to favor companies and investors in the two countries to make partnerships in fields where the two countries have complementary advantages, such as pol and gas, electricity, shipbuilding and rail road, agriculture and human resources," Nguyen Xuan Phuc stated.
In his turn, PM Ciolos spoke about the fact that the existence of over 3,000 Vietnamese alumni who completed their academic studies in Romania, who are now occupying key positions in Vitenam's administration and economy, represents a valuable asset for the relation between the two countries.
During the visit the two officials signed several cooperation agreements in the field of culture, as well as a cooperation memorandum between Romania's Transelectrica electricity transmission corporation and VietNam Electricity.
The Romanian prime minister is on an Asian tour of which debuted with an official visit to the Socialist Republic of Vietnam (July 11-14).Between July 15-16 Dacian Ciolos will attend the 11th ASEM Summit (Europe-Asia Meeting) in Ulanbaatar, Mongolia.
Georgeta Gheorghe