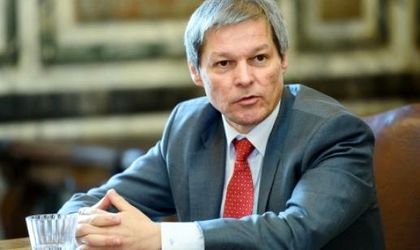 Romanian PM Dacian Ciolos said on Thursday that he will announce the day of the upcoming parliamentary elections next week. According to the government spokesman, the prime minister is holding consultations with leaders of political parties on the topic.
"I will inform next week also about the election date," Ciolos said in a press conference from Chisinau, where he is currently on an official visit. On Wednesday,  government spokesman Liviu Iolu said Ciolos was discussing the topic with leaders of political parties. "The prime minister discussed with leaders of political parties the elections date. A decision has not yet been made, there are still talks with leaders of political parties. The elections date will be announced at the earliest, but a decision on this has not yet been made," Iolu said.
Asked about the options that are currently on the table, the government spokesman said November 27, as well as December 4 and 11 are all being considered. According to Iolu, the first date that is being considered, November 27, might be unconstitutional, because the terms of the current MPs must end by the date the parliamentary elections are held.
Speaking on Thursday, National Liberal Party (PNL) co-chair Vasile Blaga said he prefers that the elections be held on December 11. "The prime minister held talks with Mr. Dragnea and with us as well on the elections date and of course there is a constitutional requirement on establishing the elections date. It would have been great to hold them in November, but they can't be held in November and then December 4 or 11 were considered during talks".
The PLN co-chair also informed the PM that both he and Ms. Gorghiu believe that December 4 is not an appropriate date, due to the number of public holidays surrounding that date.
Social Democratic Party (PSD) chair Liviu Dragnea told journalists on Thursday that PM Ciolos is considering the date of December 11. "He (Dacian Ciolos, editor's note) told me he is leaning towards December 11" Dragnea said, adding that he warned the PM that "December 11 is a date when the weather can spoil easier (…) causing Romanians not to go and vote. From our point of view, whenever he decides to set the elections, November 27, December 4, December 11, we will still win those elections," Dragnea said. "But I believe, and I still do and hope, that also PM Dacian wants there to be good conditions so that Romanians can vote. I do not believe in the theory that the mini-holiday can diminish the Romanians' appetite to vote," Dragnea added.
Georgeta Gheorghe