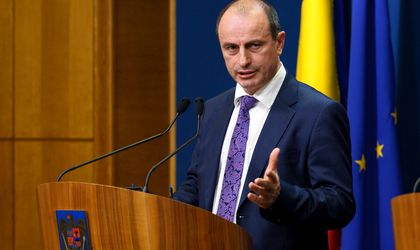 Prime Minister Dacian Ciolos is to decide on the fate of Agriculture Minister Achim Irimescu shortly. Irimescu was the subject of a simple motion, which was passed by the Chamber of Deputies on June 8.
The simple motion, initiated by the Social Democratic Party (PSD) and the Alliance of Liberals and Democrats (ALDE), was adopted with 189 votes in favor, 11 votes against and 89 abstentions. The initiators of the motion called on Irimescu for failing to provide subsidies in the agriculture sector.
Speaking to the press, Government spokesperson at the time Dan Suciu said that the PM was closely monitoring the outcome of the initiative and would "draw the necessary conclusions."
"I do not wish to anticipate things", Suciu added, "but obviously, the views of the Parliament are of interest to the Government and a simple motion that passed implies there is a point of view of the Parliament regarding the activity of a ministry." At the time, PM Ciolos was conducting an official visit to France, where he had meetings with French President Francois Hollande, among others.
"I will discuss with him and decide shortly, after an evaluation," PM Ciolos said on June 16 in reference to the case of Agriculture Minister Irimescu. "As you know, and this is what those who initiated the motion also mentioned, the PM is not compelled to dismiss the minister in question. There is a commitment, according to which, when the motion is passed, those elements included in the motion, very practical elements or connected to decisions, to be considered by the Government and the matter of subventions in agriculture was already in my attention, before the motion," Ciolos said.
The PM also explained that several EU members experienced a delay in the payment of subsidies. The delays were caused, on the one hand, by the fact that this is the first year when the new common agricultural policy is implemented. On the other hand, decisions on the timeline of the payments of the subsidies are correlated with decisions made in the past.
The simple motion against Agriculture Minister Achim Irimescu was the first such act to be adopted adopted by the Chamber of Deputies against a minister of the Ciolos government.
Georgeta Gheorghe