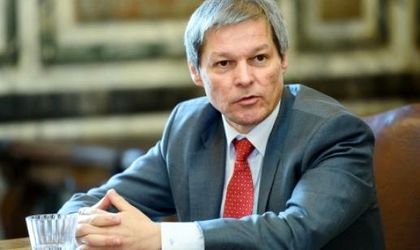 PM Dacian Ciolos says his government will not change the Fiscal Code in any way, reacting to the demands of PSD head Liviu Dragnea, who had asked Ciolos to delay by one year the reduction of some taxes.
Ciolos said that he had a phone talk with Dragnea and that the request of the head of the social democrat would be analyzed.
"The analysis is clear: This government will not touch the Fiscal Code. Naturally, any decision of such an extent can only be taken, if deemed necessary, by the future government, legitimated by the majority in Parliament and by the result of Sunday's elections," wrote Ciolos on his Facebook page.
Dragnea said in an interview that he had asked Ciolos to delay by one year the reduction of the general VAT rate from 20 percent to 19 percent. In addition, he said that the PSD has its own plans regarding the social contributions paid by companies and individuals and that the reduction of fuel excises by 6 percent will be done only after the government makes sure that the oil companies will cut the retail prices.
The party led by Dragnea won Sunday's elections, getting around 45 percent of the votes. The PSD plans to form a majority in Parliament with the Alliance of Liberals and Democrats (ALDE). It is unclear at this moment whom will be proposed as PM by this alliance.
President Klaus Iohannis underlined the fact that he will not designate a PM that has legal issues. Leading social democrats think that Dragnea should be PM, but the party head has received a suspended jail sentence and is on trial in a separate corruption case.
Dragnea did not clearly say if he wants to be the head of the new government.
Ovidiu Posirca