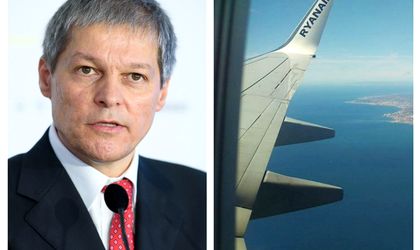 Irish low-cost airline Ryanair could be investigated by Romanian authorities after PM Dacian Ciolos was not able to pay for products in the local currency while flying on a domestic route.
The head of the government wants the consumer protection agency and other institutions to analyze the way in which the low-cost operator is doing business in Romania.
"The prime-minister has asked the National Authority for Consumer Protection (ANPC) to check the company after he was not able to pay with lei for products that were on sale on the domestic route," said the government spokesperson Liviu Iolu, according to News.ro. He added that Ciolos has also asked the ministries to analyze whether Ryanair has breached or not the legal framework in Romania.
Meanwhile, Ryanair said in a statement that it was apologizing for any "inconvenience caused", but that at present the company does not accept payments in the Romanian currency for purchases made on board.
On Thursday, Ciolos flew from Timisoara to Bucharest using Ryanair and tried to buy some products during the flight using the Romanian currency. The cabin crew said that only euros were accepted for payments on board of the plane.
Ryanair has rolled out several routes from Bucharest to international destinations in Belgium, Germany, Greece, Ireland, Italy, Spain and the UK. It also operates on the domestic route Bucharest-Timisoara.
Ovidiu Posirca